I think we tend to forget that choosing what to wear everyday is supposed to be
fun timez playing dress up
(I attempted the royal "we" to get a feeling of solidarity here..*winky wink)
Since this past summer, due to harsh rays frying last brain cells that this here old lady possesses, I became sullen and withdrawn, typical symptoms of Summeritis and I couldn't care whether potato sack or garbage bag was the daily attire. (You might have noticed I started not caring to wash strands upon head too)
What to do ? I know it's old news, but I still can't get enough of
it
.
Watch this
video
and be visually inspired or
creeped out
(as was my cat Tumbles), of the dark, almost Death Metal voices in a slow 'mo version of
Chan Chan
. You may proceed.
❚❚❚❚
In other news,
Violet
, the babeliest babe blogger around, who gives me several girl boners daily and makes my eyeballz go glassy with awe, featured me on her collaborative blog
The Fabulous Stains
.
I am feeling particularly nuttier than a squirrel turd today
(in short, I'm quite content!)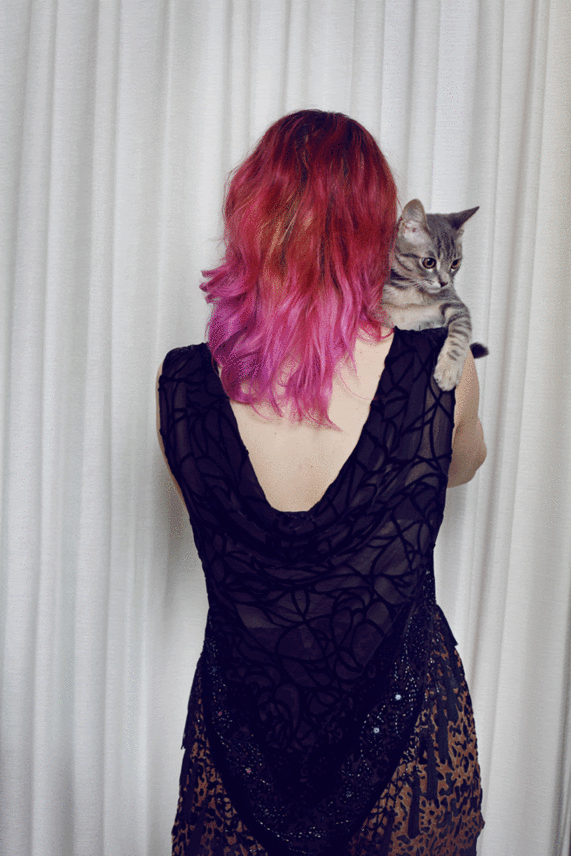 burnout velvet top c/o
Some Velvet Vintage
leopard print shorts c/o
Lulu's
necklace c/o
Vanessa Mooney
shoes, Gee WaWa
❚❚❚❚