The other day when I was at the vintage store Painted Bird in the Mission, I came across this neat top and skirt. The little dangle pieces move too, so not only does it have a giant doily-esque appearance, but its almost like a flapper dress style moving around. It pretty much has its own agenda. Thats the great thing about vintage clothing, each piece comes to life differently, giving you a whole new look. Even the vintage smell has something special about it.
Herewith a few images from today :
Top and skirt,vintage;wedges,See by Chloe
As you guys can tell, my hair has magically grown to long lengths overnight ! Y'a know, just some one-a-day vitamins and old fashioned H2O. Ok, OK, so I got my bob layered by my hair lady yesterday and then I decided to put in some extensions afterwards. How I've missed having long locks. My hair was this length back in February of this year and due to constant bleaching and coloring, my strands became angry and decided to leave me, so I had cut my hair into a short bob, otherwise it would've looked like I had a pet camel locked up in my closet where I'd secretly hang out for a while, letting him have his way with my head. The ends were shot, and my 'do looked fried to a crisp. Sadness. Anyhoo !
I would like to start featuring some great stores and artists whose work I admire, so first up : Lisa and Scott Cylinder from Ole,Pennsylvania. A while back I bought an owl brooch from them, and since then have been a fan of their work.
So, I asked them to do an interview for my blog. Herewith a few questions...
When did you first start creating jewelry and did you both have the intention of working together as a team ?
We both are trained in jewelry making and met in under graduate school at Tyler School of Art in Philadelphia in 1984. We were of course, doing separate work then.
We did not begin to collaborate until 1988 when we decided to try to make a living by doing so as Chickenscratch.
As a creative duo, who does what in the creative process and do your opinions on how the finished product should look ever differ ?
We design all of our work together by drawing and model making. Our opinions almost always differ initially, but we work through the differences through the design process. We both have specific jobs in the process of making that have developed in the 20+ years of working together.
Do both of you have degrees in jewelry arts/jewelry making or did you learn by doing ?
We both have BFA's from Tyler in Jewelry/Metalsmithing and Scott has an MFA in Metals from SUNY New Paltz (NY).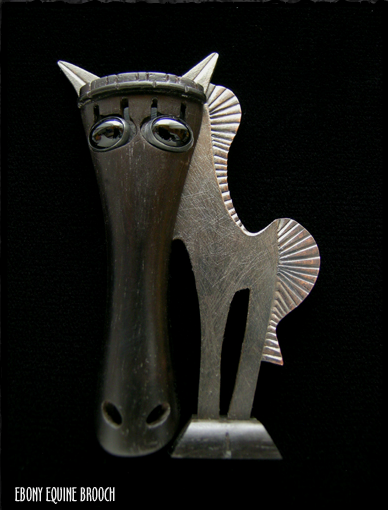 Have you always wanted to create jewelry, or did the profession of jewelry designer come later on ?
We both made sculptural , non-functional work while in school. Jewelry making was a decision made in order to try to make a living. Lisa worked in the industry in Providence for a year and for other crafts people and learned about the practicum of the business which she brought to our venture together.
Tell us how your process goes as far as inspiration, then an idea and then the final creation of a piece ?
We are usually inspired by either a concept or by the found materials we incorporate, or by both at the same time. We collect objects constantly but might not have an idea of how we might use it for years. Eventually parts find their way in and out of our narrative and the plans for a piece begin. Other times we have a seed of an idea which leads us to look for a material or object to incorporate that fits the concept of the piece. There is not a single method or path that we follow.
What materials do you work with and what would you say are your favorite materials so far and why ?
Old materials usually have the most interest for us due to their history of use or their quality. We are attracted to objects and materials from the past because they are generally superior in quality and craftsmanship to what is being produced today. Old parts from a clarinet or a tool are much richer and beautiful than anything we can find today. We love dense woods, interesting, old plastics, bronze, and found objects that show their history.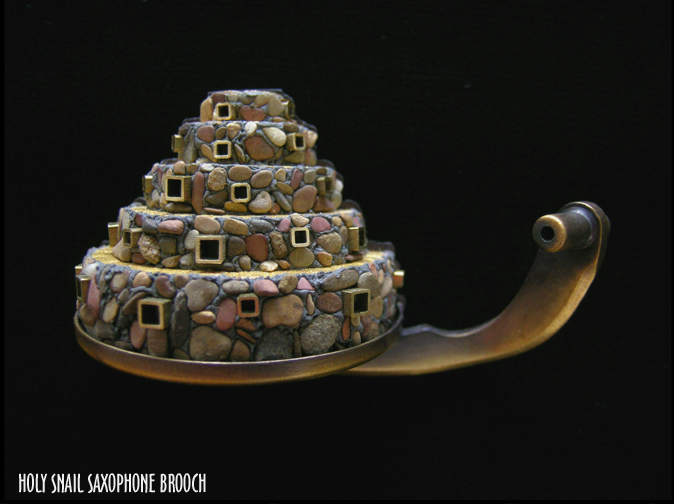 As an artist, it must be difficult to create a one of a kind piece and then give it up to sell, are there pieces you intended to sell in the past, but then afterward kept it because you simply couldn't part with it ?
Yes. We have begun to save some of our favorite pieces for our own "collection," as an archive for the future. Usually not because of not being able to part with pieces, but because of both of us mutually liking a piece and deciding it should remain ours.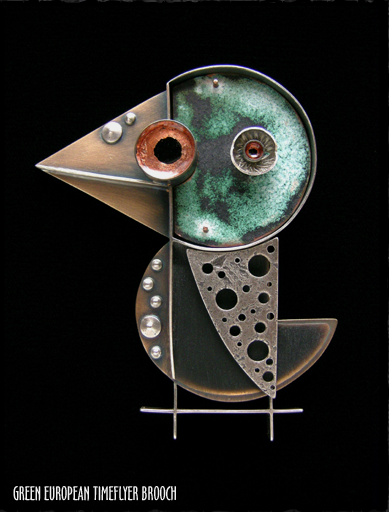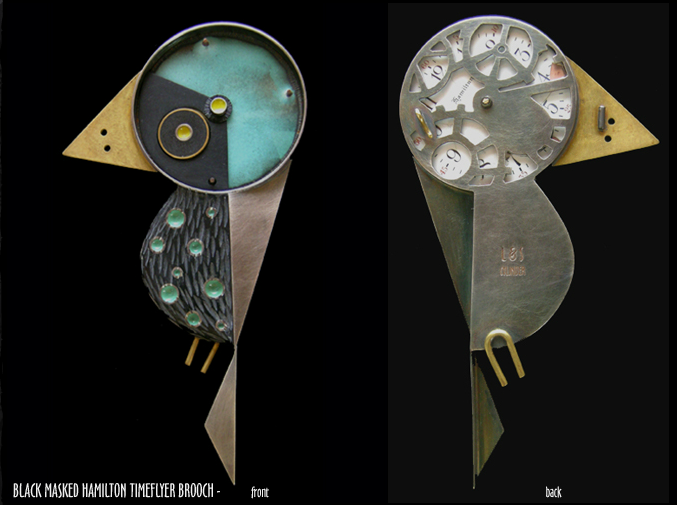 Your newest collection, Lisa and Scott Cylinder which is available at Velvet da Vinci on Polk street in San Francisco, features brooches made from watch parts and instruments. Could you tell us how you came up with the idea and where the parts came from to create them ?

We have been making One-of-a kind pieces since 1998 as Lisa & Scott Cylinder and in that time we have explored many different ideas and vintage materials. We have made many pieces incorporating game parts, enameled watch faces, pencils, pipes,small industrial tools and most recently, musical instruments. All of our materials have been procured by visiting flea markets and antique shows. We generally purchase things that speak to us, not knowing specifically what we will do with them. Some of the ideas will come from the objects we find. Other times we will develop a concept and later seek the objects we need to fulfill our ideas.
We are always looking for the next material and concept.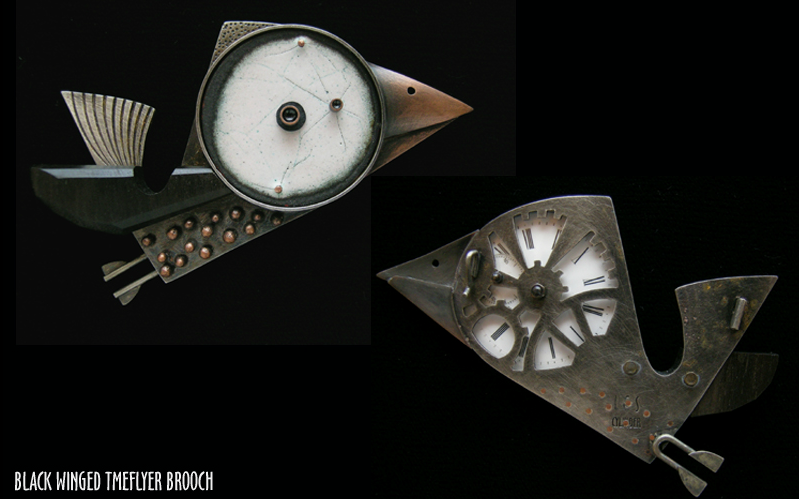 As I have a piece from your Chicken Scratch collection, the "wise owl", I wanted to know how you came up with the various names for each piece. Did you imagine the names first, and then create the pins or vice versa ?
Chickenscratch is something completely different. It is conceived and made as multiples with an eye towards business. Our ideas are generated by puns, cartoons, word play and by our observations of the oddities of life and nature. These pieces are made using commercially available materials, knowing that we will be making a design many times over. Most of what is used in the production of these pieces is fabricated by us from sheet and wire. The use of "found" materials doesn't enter into the equation.
What are your plans for the future concerning your jewelry line ?
Chickenscratch is an ongoing line that will continue for as long as we decide to produce. It changes gradually, but the essence has always been smart, fun and affordable. As for L&S Cylinder One-ofs, we don't know what is next yet, but we will know it when we see it.
photos taken from the Lisa and Scott Cylinder website http://www.lisaandscottcylinder.com/